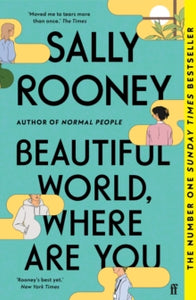 City Books
Beautiful World Where Are You by Sally Rooney (Signed)
Regular price
$12.00
$0.00
Unit price
per
Tax included.
Paperback - bookplated
Alice, a novelist, meets Felix, who works in a warehouse, and asks him if he'd like to travel to Rome with her. In Dublin, her best friend Eileen is getting over a break-up and slips back into flirting with Simon, a man she has known since childhood. Alice, Felix, Eileen and Simon are still young - but life is catching up with them.

They desire each other, they delude each other, they worry about sex and friendship and the times they live in. Will they find a way to believe in a beautiful world?
---